HOW TO GET HERE
FINDING YOUR WAY TO NÄSÅKER
Näsåker is a small village, with about 500 inhabitants, located 40 km from Sollefteå which is the closest town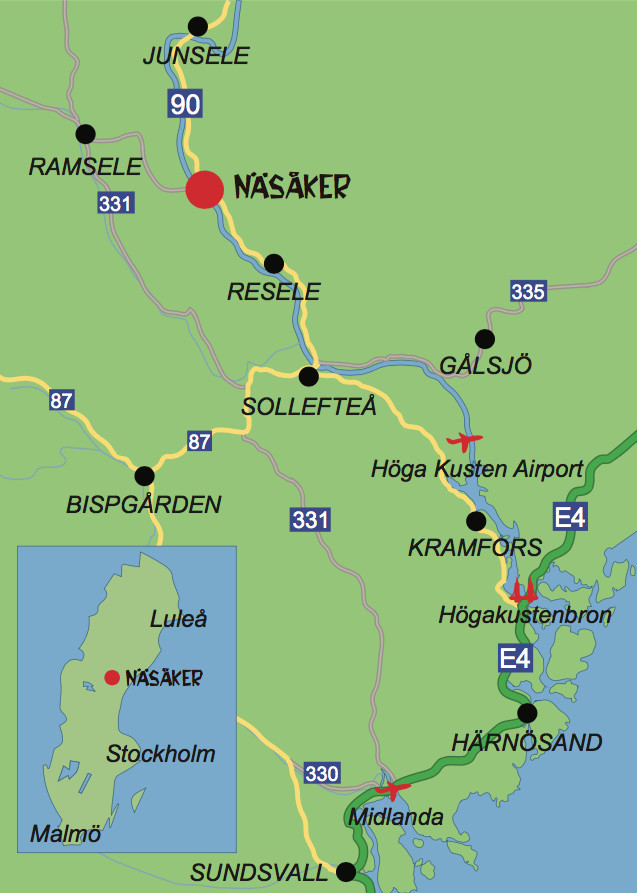 Illustration Per Solander
PARKING
It is important to know if you come by car that parking possibilities in Näsåker are very limited.
During the festival parking will be temporarily prohibited in most parts of central Näsåker, anyone who parks where parking is prohibited will risk being fined.
You are best of buy parking your car in the large parking area (paid parking) located between the church and state highway 90, next to Sigges Family Camping (see map).
Parking fee is XX SEK for one day or XX SEK for the whole weekend.
You can pay by cash or Swish. If you move your car that means you have left your parking spot and you need to pay again if you want to return it to the car park (not more than XX SEK if you have already paid once).
The reason to the parking prohibition is first and foremost to make sure emergency service and ambulance will be able to get through unhindered and to minimize risks for accidents and inconveniences.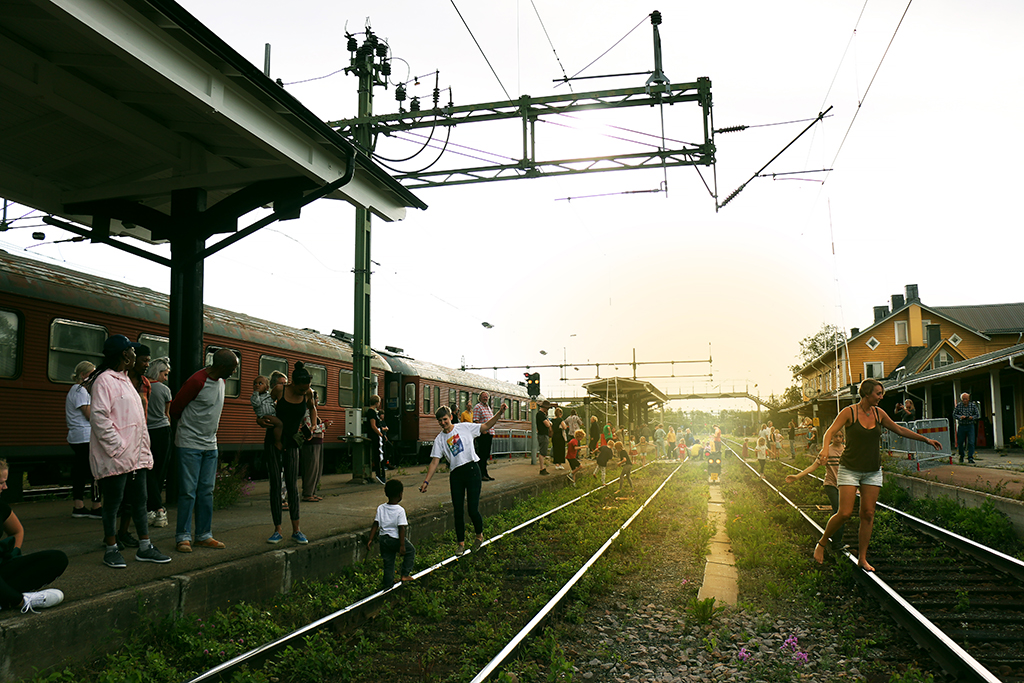 LOCAL TRANSPORTS
Din Tur drives local buses between Sundsvall-Sollefteå and Sollefteå-Näsåker. No cash payment on the buses!
Urkult orders a couple of extra departures from Sollefteå to Näsåker before and after the festival.
Travel information will be updated during the spring
SJ
SJ traffics the railroad to Sundsvall and Kramfors, from where you can catch the bus. You can book your entire trip, includinge change of trains, all the way to Näsåker from Malmö, Gothenburg, Stockholm, Umeå or other locations.
Urkultståget
Travel affordable with the Urkult train! Livemusic och lots of pleasant company onboard! Because of track work the trains terminus is Långsele, some 45 minutes from Näsåker, where busses await to transport you the remaining bit to Näsåker. Booking and more information through Nässjö Järnvägsmuseums webpage.
Y-buss
Y-buss drives buses to Urkult from Stockholm to Näsåker with several stops along the way. More information about this years bus schedule will be updated during the spring. 
Skjutsgruppen
Find a car-ride to Urkult! Skjutsgruppen consist of thousands of private people who would like to share rides all over Sweden. The group for Urkult is one of their biggest.
Glädjetåget
Car-pool by bus from Stockholm directly to Urkult with Glädjetåget. The association Glädjetåget is run by the cooperative Kontrabuss. An alternative transport in true anarchistic spirit. For more information send an e-mail to urkult@gladjetaget.org 
Lapplandpilen
The bus Lapplandspilen have cancelled their traffic this year.