Be a volunteer
We couldn't do it without you!
Apply to become a volunteer!
VOLUNTEER
Together we make sure the festival becomes a reality. Thanks to all your good souls we can continue to celebrate year after year. To do volunteer work at Urkult is often described as intense, a little crazy and immensely joyful and fun. You will meet so many people and form new connections and friendships. You might even discover some unknown talents of your own.
 Every year around 600 volunteers join us to help build the festival

As a volunteer you are placed in a specific work group where you are expected to work a minimum of 12 hours during the whole festival or 16 hrs if you come before or stay after the festival. The hours are often split into 3 shifts that last 4 hours each day but it can also be split into two 6 hour shifts. We expect you to be completely sober when you work. The different work areas range from environmental work, entrance work, security work, bar work and many more. We try our best to place you where you feel comfortable and qualified.
For 12 hours of volunteer work you will get
• Free entry to the festival
• Traditional Swedish "Fika" (Coffee, tea and baked goods) at the Staff Café
• Free camping space for your tent at the beautiful Volunteer's Campsite by the river
If you want to join you need to fill in the application form which we post on here during the spring.
In the application you can mark what areas you would most like to volunteer at – and please tell us a little about yourself and your qualifications.
In the middle of June we start to place the volunteers into the different work groups – after which you will receive an email stating what area you have been assigned. You will also get contact details to the coordinator for that specific group. You should then let this person know that you want to keep your spot. This person will give you all the necessary information you need before you arrive at Urkult!
The Volunteer Campsite
All volunteers stay for free at our Volunteer Campsite. Anyone who wishes to stay elsewhere will have to book and pay for it themselves.
The camp is situated by the river just below the village close to the community sauna and a 20 minute walk to the festival area. Only tents are allowed.
The toilets are traditional out-door toilets so called "long-drops". There is no electricity. One side of the camping is completely drug free.
You are responsible for your own trash – please be mindful of recyclables as we are all fond of the environment and our beautiful rivers and woods.
There is drinking water available in large tanks where you can refill your bottles and pots for cooking. There is only the footpath to the festival area. It might be muddy so we recommend bringing some durable shoes.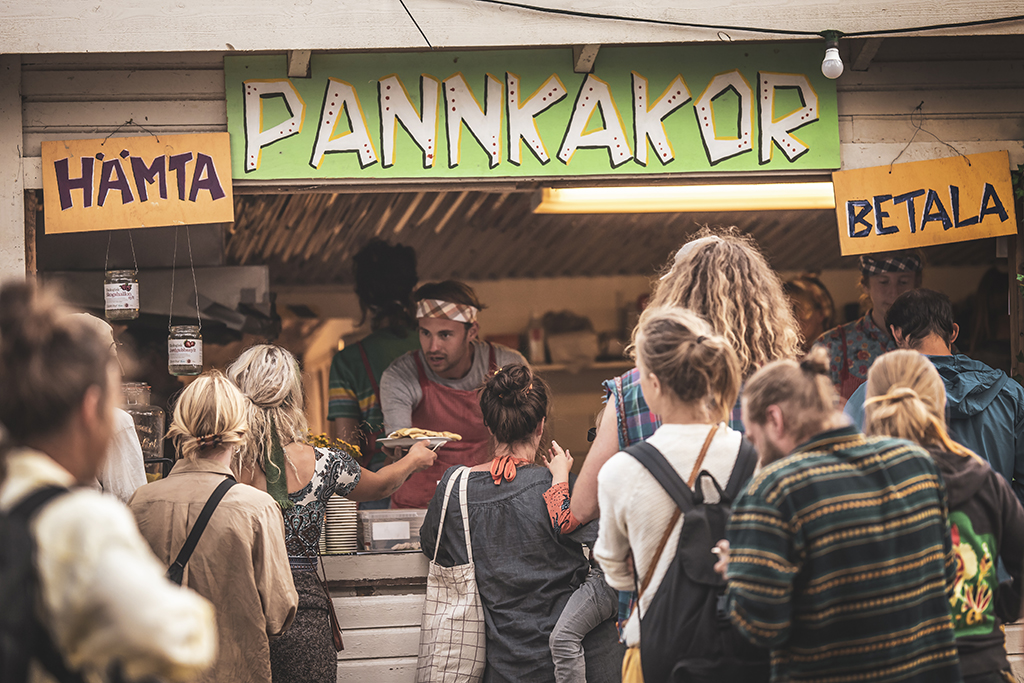 Good to know when you apply
Since Näsåker is a destination with fairly few travel options, we recommend planning and booking your trip in advance. On our page "Find Us" there is information regarding travel options.
In most cases the group you will work with during the festival will have an introduction meeting with all their volunteers on Thursday around noon (the first day of the festival) before the festival area opens up. If you are not able to attend the meeting due to you arriving later that day you must notify your coordinator in your application so that they can take this into consideration when planning.
You should of course be sober during all your shifts.
We do accept volunteers under the age of 18 to the best of our ability. It can be difficult, but we do try to welcome everyone who applies. However you do have to be at least 13 to apply and up to the age of 15 you need consent from your guardian.